This week, InsideSAP visited SAP's Melbourne office to attend the innovXtalk, hosted by SAP Innovative Business Solutions.
The day was presented by Adam Sivell, Innovation Manager at SAP. This was the first talk of its kind. Highly informative, entertaining and interactive, the event was a great success.
We were introduced to proceedings with SAP Innovative Business Soutions presenting "Why Innovation Matters." In the examples given, the innovative approach was related to how X-data can be collected and used. With real, documented experiments shown, sample groups had their emaotions mapped via facial and vocal recognition, then measured by ML processes to identify highs and lows in the typical customer experience.
Newcrest Mining shared their recent innovation journey in developing mobile business apps across thousands of devices and assets. With an astronomical number of company vehichles, machines and other assets, Newcrest faced increasing security, health and safety risks. By creating an app, used on company and BYOD devices, Newcrest (with the help of Bourne Digital) created a catalogue of assets that could be recognised, accessed and logged via the app and device's camera.
After a short break we were divided into groups for a round of innovation speed-dating. Moving from room to room, we explored SAP's current and future innovations in several high-interest areas. Each room maintained a key focus, which seemed to be connected to a theme. All the rooms were highly interactive, with attendees able to ask big questions directly of SAP.
Bots
To power the Intelligent Enterprise, SAP is grouping its two conversational products into one offer. CoPilot and Recast AI will be used to power SAP's bot creation. With these two programs, customers can create bots within days to handle customer and staff communication processes.
Cloud
An in-depth case study of Fonterra's award-winning internal project recruitment solution. We were guided through the process of implementation: Discovery, Design, Development and Running.
D-Shop
A highly interactive session on IoT and ML. We were introduced to systems which create a completely connected lego home, a 3-D printed power grid with real-time maintenance monitoring and InsideSAP's brainwaves were tracked by a device that tells managers when employees are overly stressed.
Automation
Tying everything together, an introduction to SAP's entry into RPA and what it means to SAP users. If you are spending time and resources on manual, repetitive processes, integrating RPA will allow your teams to focus on progress and innovation.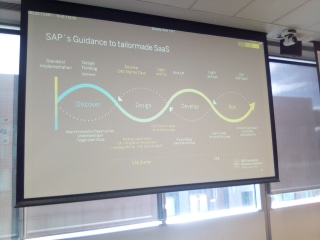 Design Thinking
After lunch we rejoined the other groups for a super condensed session on Design Thinking. Each group chose a current company and brainstormed their current issues. Next, we considered the ideal future profile of each company. From there, we considered the solutions and the technology to get us to our solutions. Four major companies were theoretically brought into the future in under two hours.
The entire event was not only educational, but also a lot of fun. Attendees were also given rare insights into future offers from SAP. We hope that future events will be held, and highly encourage you to join.
SAP Innovative Business Solutions is currently running workshops on Card Management – click here to find out more.